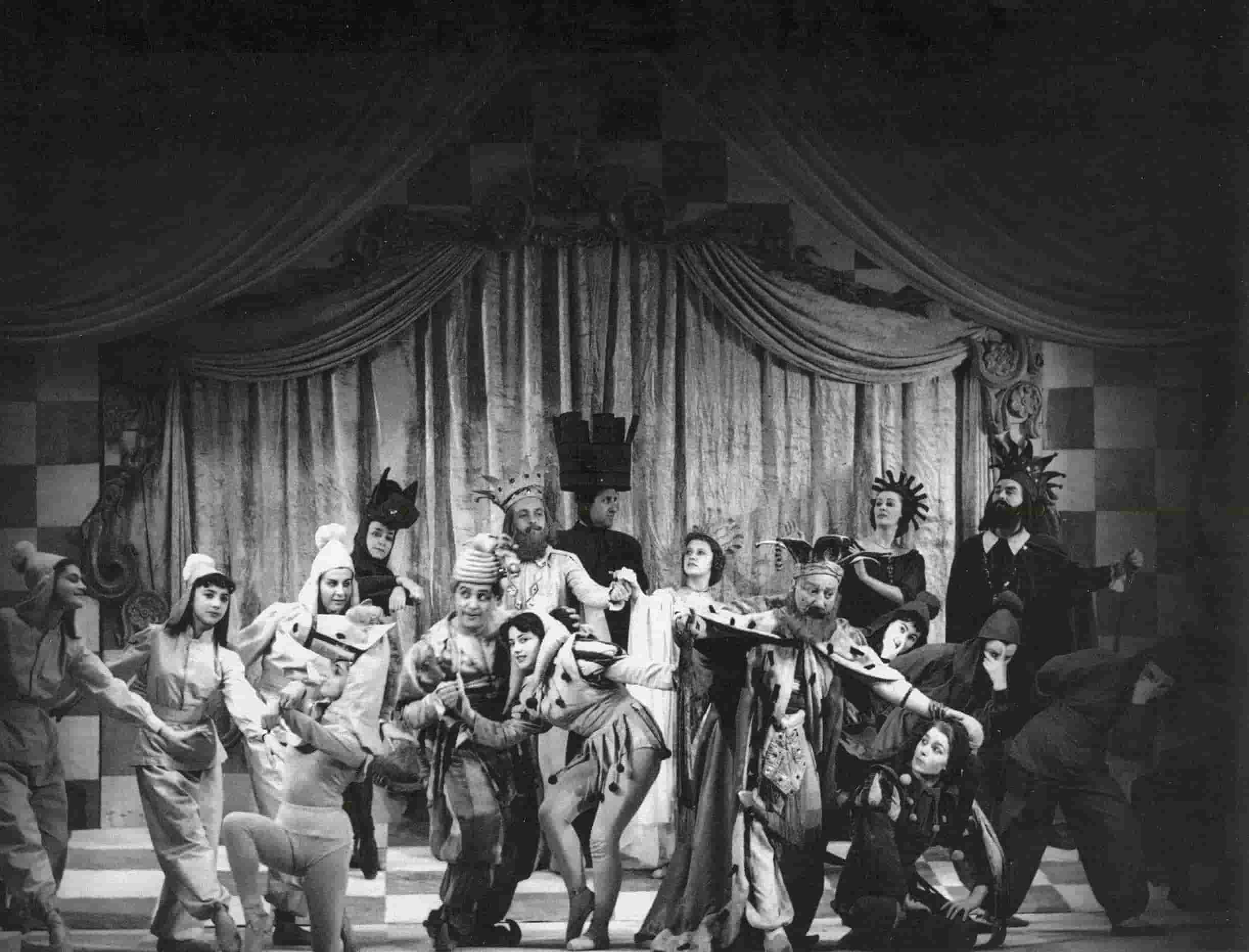 The Story of The Yiddish Theatre in Romania
Only in the 19th century did the Yiddish theatre emerge as a distinct cultural institution. Abraham Goldfaden (1840-1908), born in the Russian Empire, in the city of Starokonstantinov, in 1840, was the creator of the world's first professional Yiddish theatre. On August 19, 1876, he and his company performed a play in the Romanian city Jassy, at "Pomul Verde." It must be stated that the Yiddish theatre did not appear out of nowhere, but that there are several traditional theatrical manifestations that existed in Jewish culture throughout its history.
THE ORIGINS OF YIDDISH THEATRE
According to researchers in the field of arts, the earliest forms of theatrical performances date all the way back to ancient times, either as plays and songs associated with the passage of seasons and certain agricultural events, or as a component of religious cults, such as the cult of Dionysus, which served as the foundation for ancient Greek tragedy. Such theatrical manifestations could also be found among Jewish tribes. For example, we know about the dances and songs performed by the prophetess Myriam and the Jewish women to express their gratitude to Jehovah after He delivered the Jewish people from Egypt. Another example is the Psalms recited by the Levites in the Temple, which were worship songs accompanied by dances and music. Another example was the dance performed on the first day of Sukkot, also known as the Feast of Joy or the Feast of Booths. Another popular play-based holiday was observed on the fifteenth day of the month of Av, also known as The Day of the Breaking of the Axe, because it marked the last day when wood cutters were permitted to cut trees from woods. Jewish girls dressed in white would dance and sing in the vineyards during this holiday.
However, the Jewish theatrical manifestation that is most similar to the modern concept of theatre is probably the popular Purim plays, also known as Purim spiels. This collective performance will have a significant impact on the evolution of Modern Yiddish theatre created by Goldfaden and other Jewish itinerant companies during that period. Purim spiels, as the name implies, were closely related to Purim, one of the most joyous and animated Jewish holidays commemorating Queen Esther's rescue of the Jewish people from ancient Persia. On the 14th of Adar, Haman, the vizier of King Ahasuerus (Xerxes I), plotted to exterminate all Jews in the Persian Empire, according to the biblical Megillat Esther (The Book of Esther). Esther confessed her Jewish origins to the king and Haman's plot after learning of his plan. As a result, the king executed Haman and appointed Mordecai, Esther's cousin and the leader of the Jews in Persia, as the new vizier. The Scroll of Esther, which legitimised and established the Purim holiday, contains all of the elements of a true "play": a thrilling plot, well-developed characters, strong lines, and a happy ending.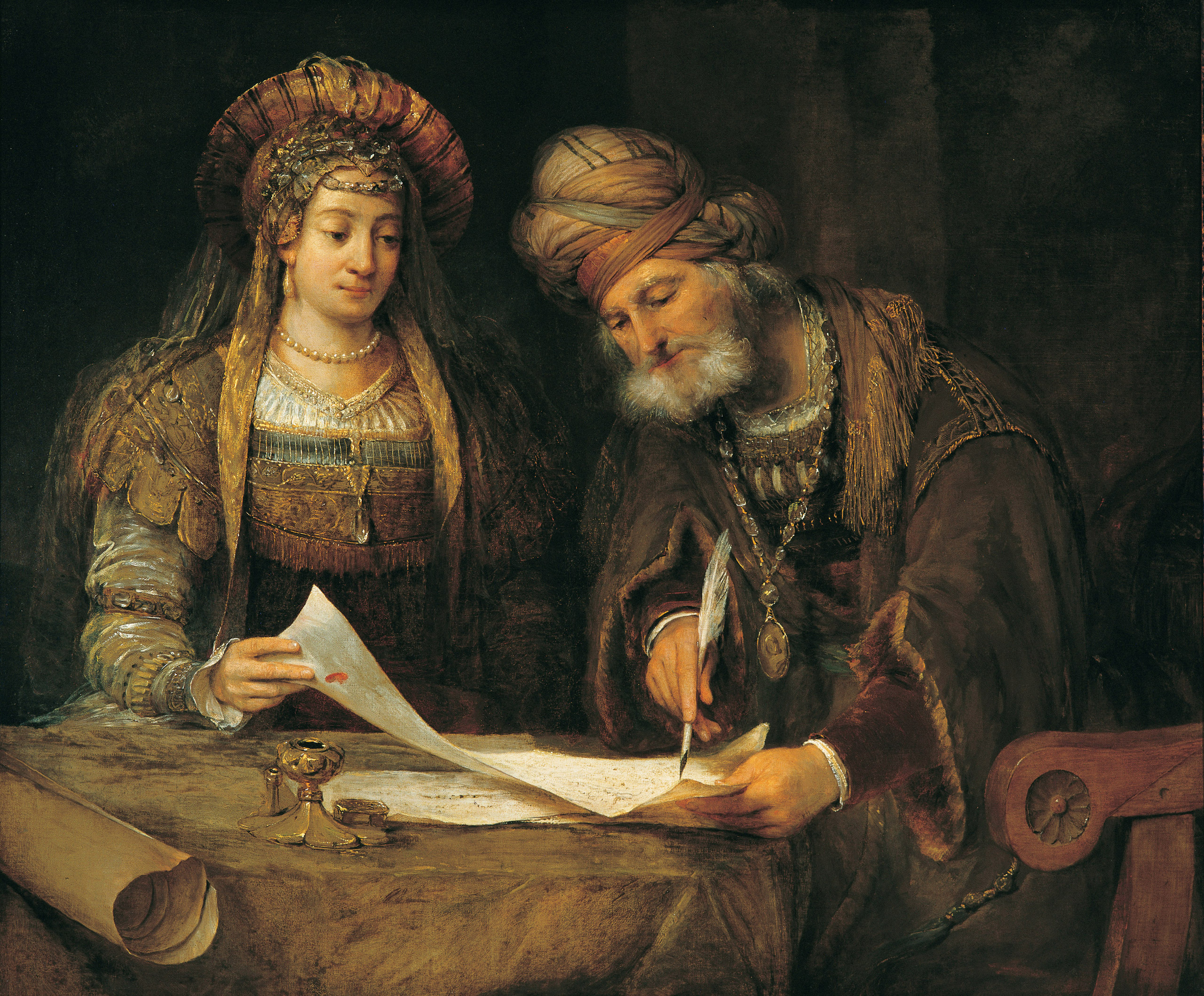 Aert De Gelder, "Esther and Mordecai writing the first Purim letter", 17th century. Image source: Google Cultural Institute
The recommendations for Purim, a holiday not mentioned in the Torah, can be found in the Tamudic tractate titled Megillah (in Hebrew, scroll). Reciting the Scroll of Esther in synagogue is the most important practice. Adults and children participate in the reading while wearing masks, and whenever Haman's name is spoken, they stamp and shake their noisemakers (in Yiddish, gragher). Even though the general atmosphere was joyous and carnavalesque in the past, the reading in the synagogue did not permit the use of satire and parody, so the Purim spiels were performed in the synagogue courtyard, and later in people's houses and performance halls.
Originally, the Purim spiel was a dramatised monologue from The Book of Esther or a parody of other biblical episodes and texts, such as "The Healing of Joseph" or "The Sacrifice of Isaac." Over time, these legends became a pretext for emphasising societal issues and satirising various members or leaders of the communities where these performances were presented.

Five characters from the "Purim spiel" (after the engravings of an anonymous artist from the 17th century). Image source: Israil Bercovici, "A Century of Yiddish Theatre in Romania"
THE CONTEXT IN WHICH THE WORLD'S FIRST YIDDISH THEATRE APPEARED
There were numerous hypotheses about the factors that led to the appearance of the world's first Yiddish theatre in Romania, rather than in other countries where theatrical institutions were already established. Goldfaden himself believed that this was possible because wine cellars and saloons could be found all over Romania where popular singers would perform their songs while wearing costumes. Israil Bercovici, in his book A Century of Yiddish Theatre in Romania (1876-1976), takes Goldfaden's opinion into account, but also states that the socio-political context that existed after the Revolution of 1848 and around the Romanian War of Independence contributed to the creation of Yiddish theatre in Romania (1877-1878). Jews such as Constantin Daniel Rosenthal, Barbu Iscovescu, and Davicion Bally were active participants in the cultural and political life of the time.
Several Jewish newspapers and periodicals appeared in Jassy and Bucharest at the same time, including the world's first Yiddish publication, Korot Haitim (The News of Time), in 1855. The evolution of Yiddish literature from that time, as represented by Mendele Mosher Sforim, Sholem Aleichem, Isaac Leib Peretz, Moris Wincevski, and others, was a decisive catalyst for the establishment and development of Yiddish theatre as well.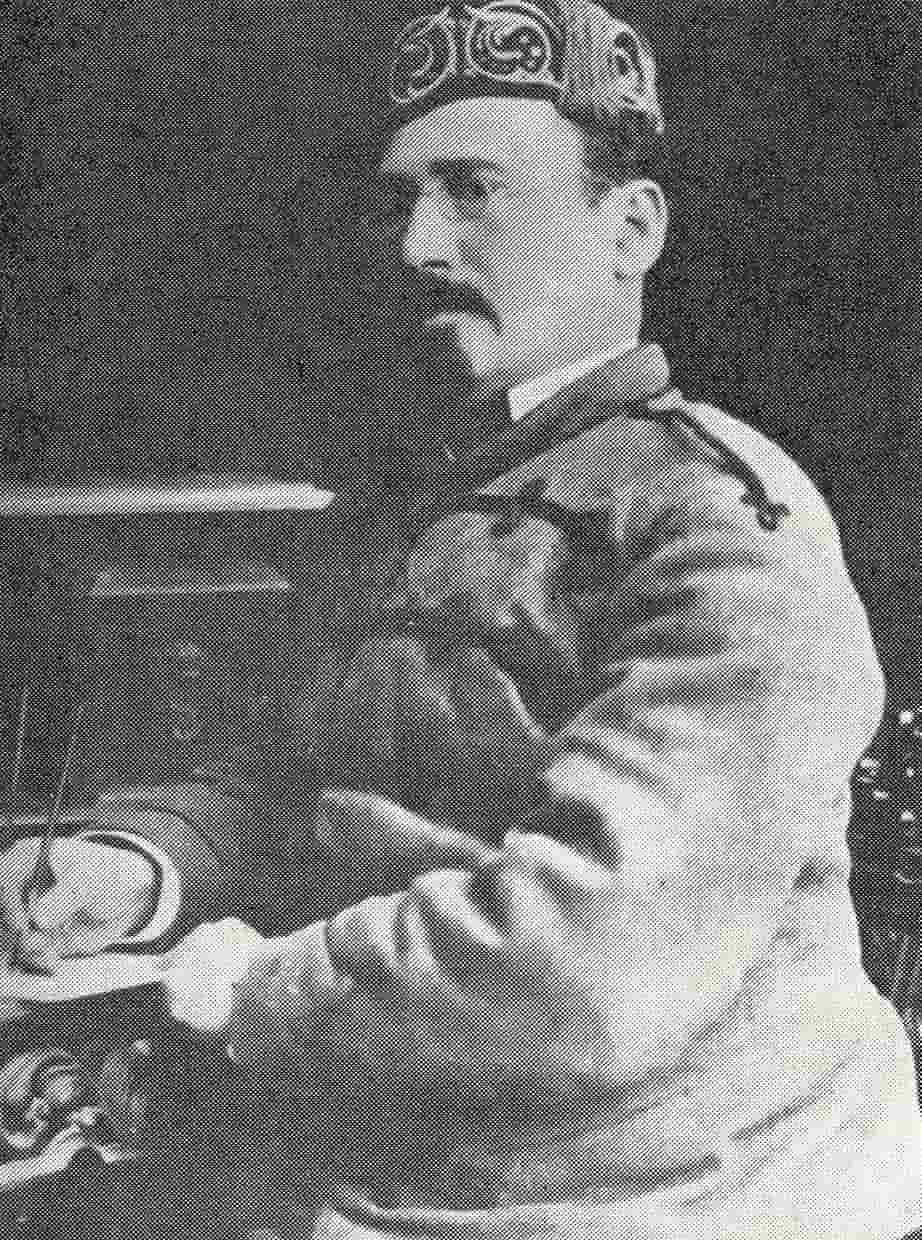 Abraham Goldfaden dressed up in a Brandenburg costume. Image source: Israil Bercovici, "A Century of Yiddish Theatre in Romania"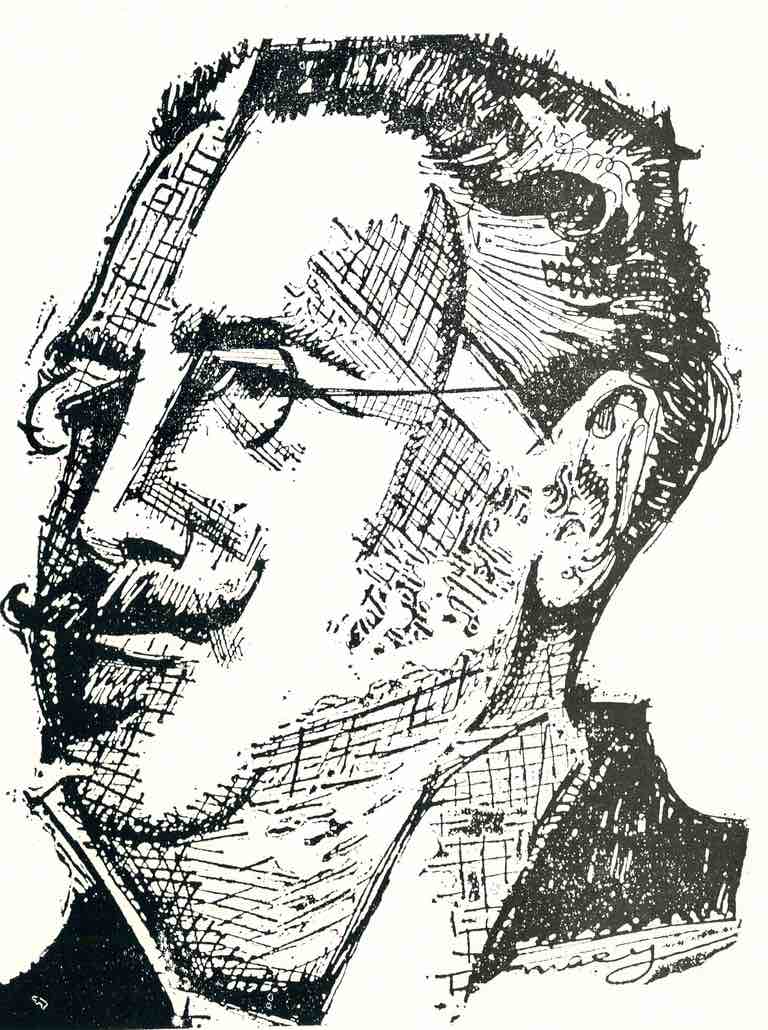 Abraham Goldfaden, drawing by M. H. Maxy. Image source: Israil Bercovici, "A Century of Yiddish Theatre in Romania"
When Abraham Goldfaden arrived in Jassy in 1876, he was already well-known due to his poems, which had been set to music and became popular songs. He had planned to start a newspaper, but bookseller Isaac Librescu and his wife persuaded him to abandon that project and instead perform a public recital of his poems in the "Pomul Verde" Garden. Instead, Goldfaden proposed a comedy, which will go down in history as the first theatrical performance of a professional Yiddish company. One of the first reviews dedicated to the newly established Yiddish theatre was signed by none other than Romanian national poet Mihai Eminescu, who praised the acting in "Curierul de Jassy" (no 93, August, 20, 1876).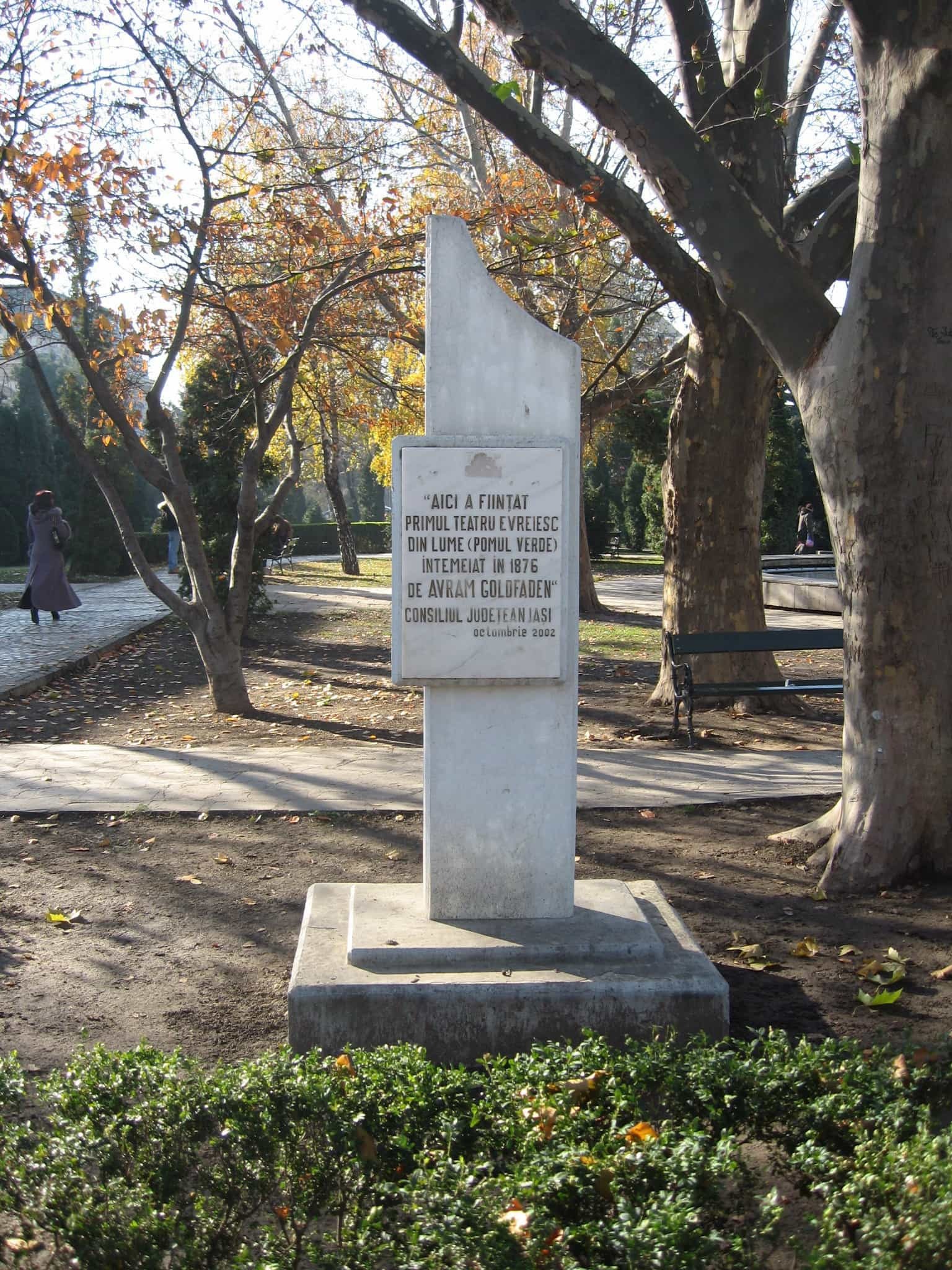 Obelisk erected where the "Pomul Verde" Garden once stood. Image source: Cezar Suceveanu, Wikipedia
Following a series of performances in Botoșani, Galați, and Brăila, Goldfaden and his company—which included singers Israel Grodner and Suher Goldstein, as well as Sara Segal, the first actress in the history of Yiddish theatre—arrived in Bucharest, where they gave several performances in the "Lazăr Cafegiu" saloon on Calea Văcărești and the Lieblich "Jignița" Garden (on 10, Negru Vodă street), that became as famous as the "Pomul Verde" Garden. In Bucharest, Goldfaden's troupe was bolstered by new players like Sigmund Mogulescu, Lazăr Zuckermann, Moise Zilberman, and Simhe Dinman, who had previously worked as cantors in synagogues.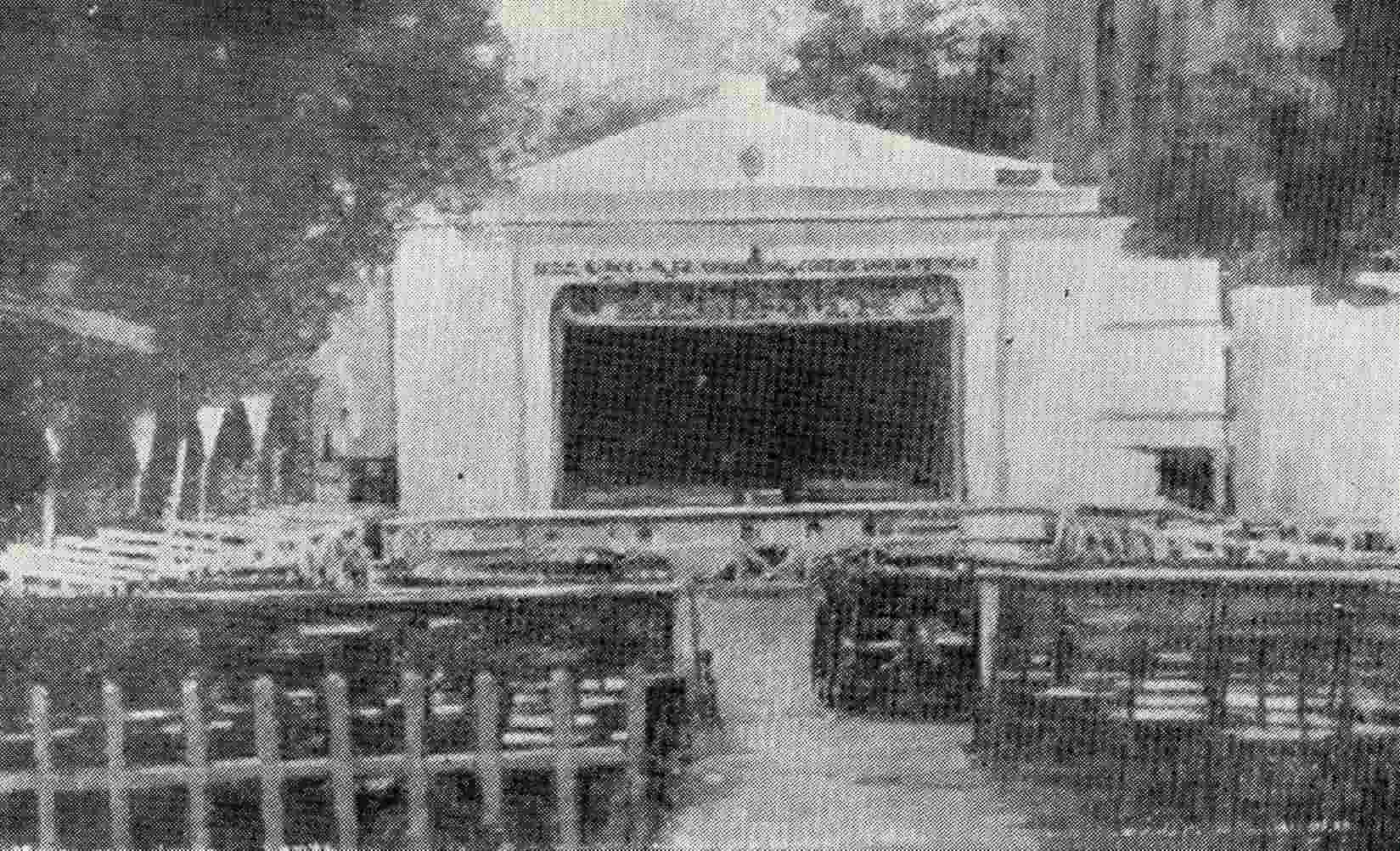 The "Jignița" Garden in Bucharest. Image source: Israil Bercovici, "A Century of Yiddish Theatre in Romania"
Because of the success of his company, between 1876 and 1877, Abraham Goldfaden was inspired to write and perform more than twenty plays, including The Recruits, Schmendrik, The Mute Bride, The Cheerful Shoemaker, Catarrh, The Sorceress or Shoemaker and Tailor. Initially, his repertoire consisted primarily of comedies and light-hearted satires in which the artist borrowed elements from folklore and depicted aspects of daily life. This attitude stemmed from the fact that Yiddish theatre was mostly attended by an uneducated audience whose "physical and spiritual nourishment was a good glass of Odobești wine and of Jewish songs," as Goldfaden stated in his autobiography. However, he believed that the purpose of theatre is not only to entertain the masses, but also to educate, moralise, and aestheticise them.
My brothers, no! If I can get a stage, I want it to be like a school for you. You didn't have time to study or cultivate yourselves when you were younger. Come now to me and examine the paintings in which I portray you as if in a mirror, with your good and bad habits. You will learn from it in order to correct the mistakes you make in your family life, in order to know how to behave with each other or with those you live with…
Abraham Goldfaden is one of the most important figures in the history of international Yiddish theatre, not only because of his pioneering gesture, but also because he knew that the purpose of an artist was to understand his audience, to get closer to them by offering reflection topics taken from their daily lives, while also attempting to shape their tastes and cultural interests, and by encouraging them to actively participate in the cultural life of their community. In fact, this belief drove him to write more "serious" Yiddish texts that dealt with Jewish themes, such as the historical plays Shulamith, Joseph in Egypt, and Judith and Holofernes.
Goldfaden and his company began a tour of the Russian Empire in the summer of 1879, performing in Odessa, Kharkiv, Moscow, and Saint Petersburg. Their Russian adventure, however, was cut short when the Yiddish theatre was banned on September 14, 1883. The theatrical company gradually disbanded, with many artists migrating to the United States of America, where several initiatives to establish Yiddish theatres began to emerge. Goldfaden arrived in New York in 1887, but success was slow to come. As a result, he returned to the Old Continent for a time, where he worked in Paris, Warsaw, Lviv, and several Romanian cities to try to straighten out his financial situation. Finally, in 1904, he returned to the USA, where he died on January 9, 1908, and was buried with great pomp at the Washington Cemetery. According to the New York World, his funeral procession included 75.000 people.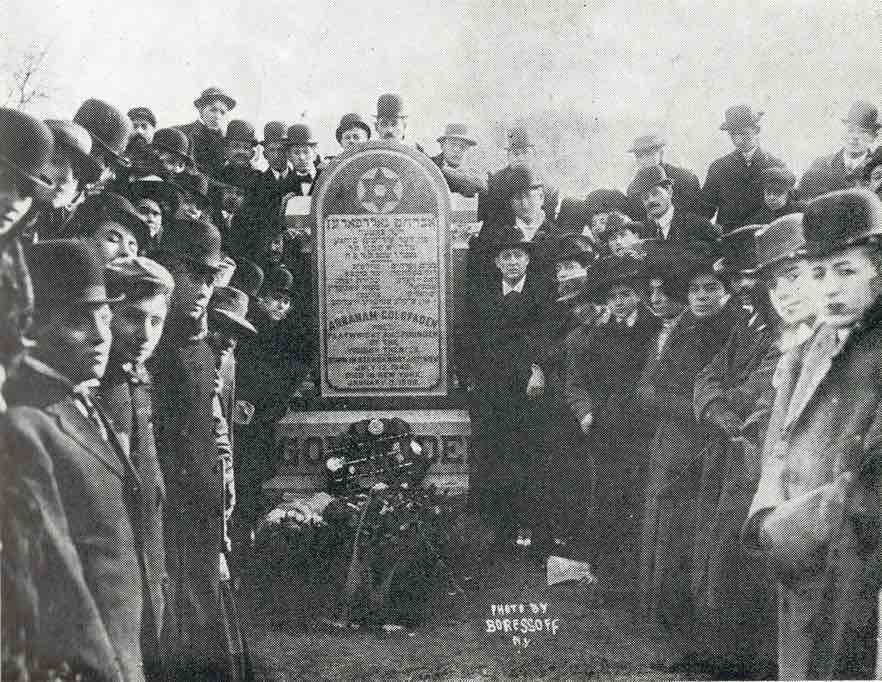 At the grave of Abraham Goldfaden. Image source: Israil Bercovici, "A Century of Yiddish Theatre in Romania"
THE DEVELOPMENT OF YIDDISH THEATRE DURING THE INTERWAR PERIOD
Following WWI, more Romanian, Hungarian, German, and Yiddish companies emerged, with tours spanning all of Greater Romania. Stramer's company, for example, staged Yiddish performances in Transylvania for the first time. Moses Siegler's company was known not only for its extensive repertoire, but also for the inclusion of several actresses who would go on to become important figures in Romanian Yiddish theatre, including Dina Feinmann, Malvina Glükmann, Cily Adler, and Sevilla Pastor.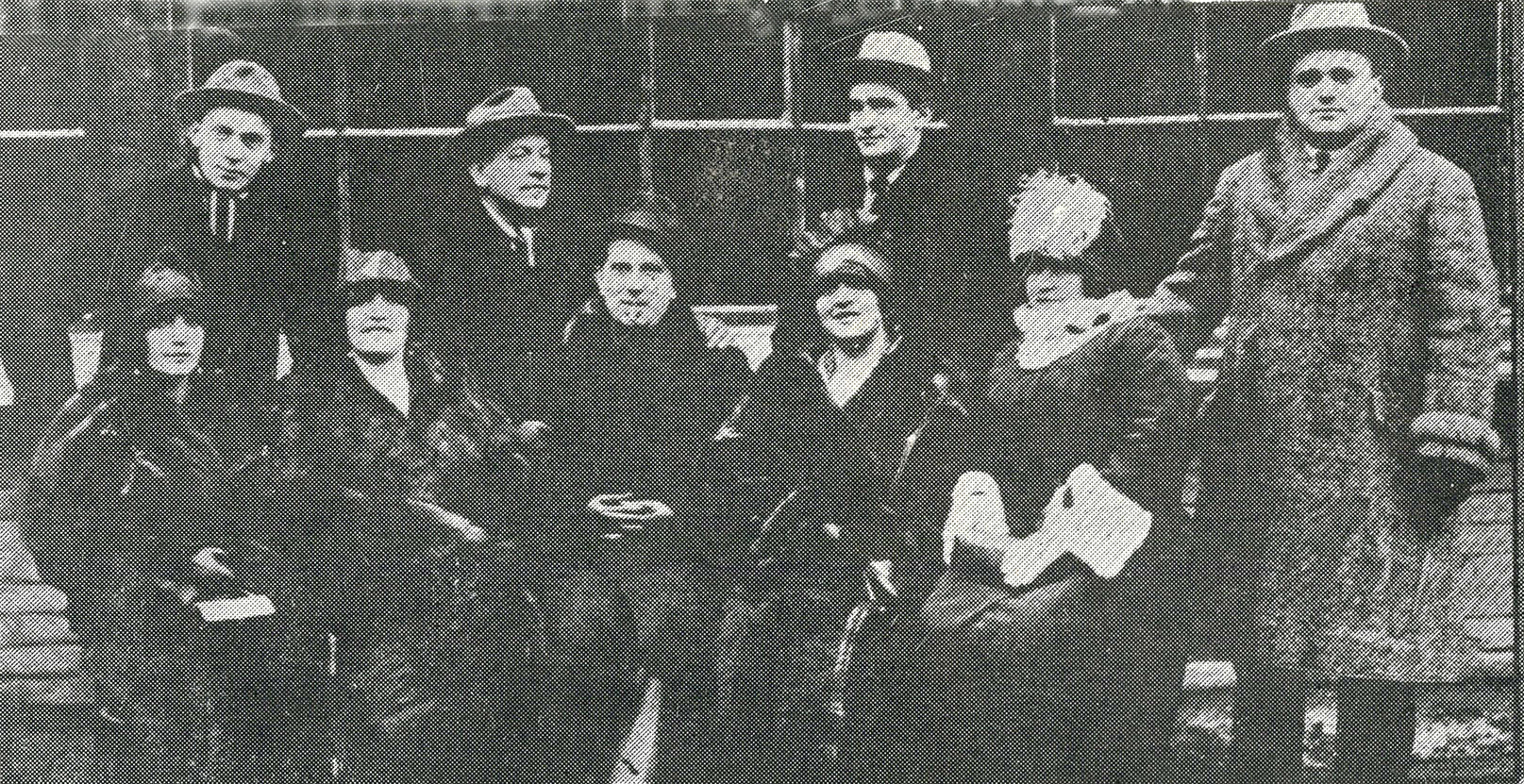 The Stramer Company. Image source: Israil Bercovici, "A Century of Yiddish Theatre in Romania"
Jacob Sternberg (1890-1973), a poet, critic, and director, began his career around the same time. With the help of Avant-garde artistic tendencies of the time, he hoped to create a symbiotic relationship between the popular character of Goldfaden's theatre and Peretz's innovative vision. The appearance of Jacob Sternberg on the national theatrical stage paved the way for the Vilna Company (Di Vilner Trupe), one of the most renowned companies in the history of Yiddish theatre. Created in Vilnius in 1916 and directed by Mordecai Mazo, the troupe arrived in Bucharest on the initiative of Isidor Goldenberg and became a cultural sensation in the capital for three seasons (1923-1926). The company's performances, which included artists such as Hana Braz, Luba Kadison, Judith Lares, Miriam Orlenska, Alexander Stein, Joseph Buloff, Joseph Kamen, Dina König, and Leib Kadison, piqued the interest of both Jewish and non-Jewish audiences, and received numerous positive reviews signed by prominent Romanian authors and critics. Some of the troupe's most memorable performances include The Dybbuk, He Who Gets Slapped, and Singer of His Sorrows.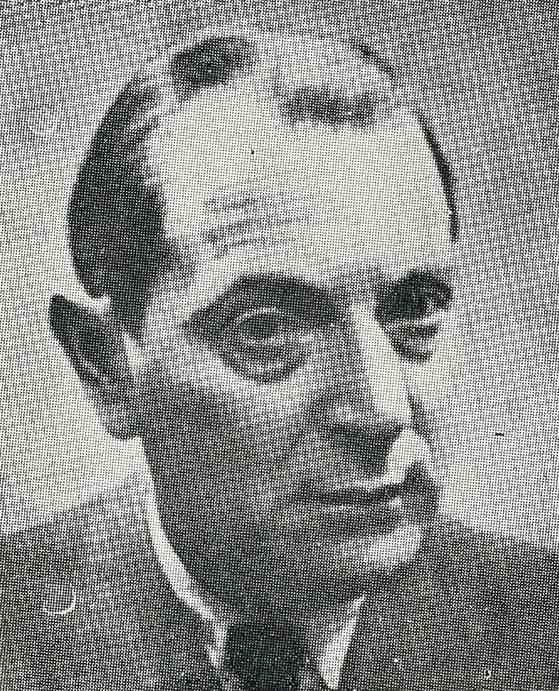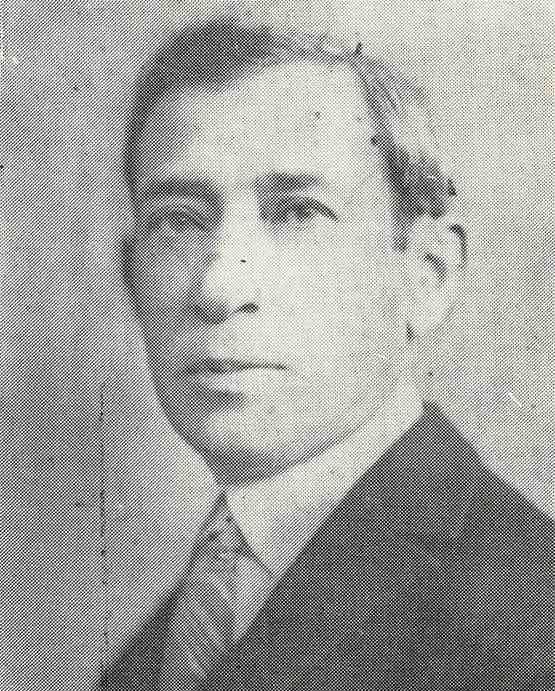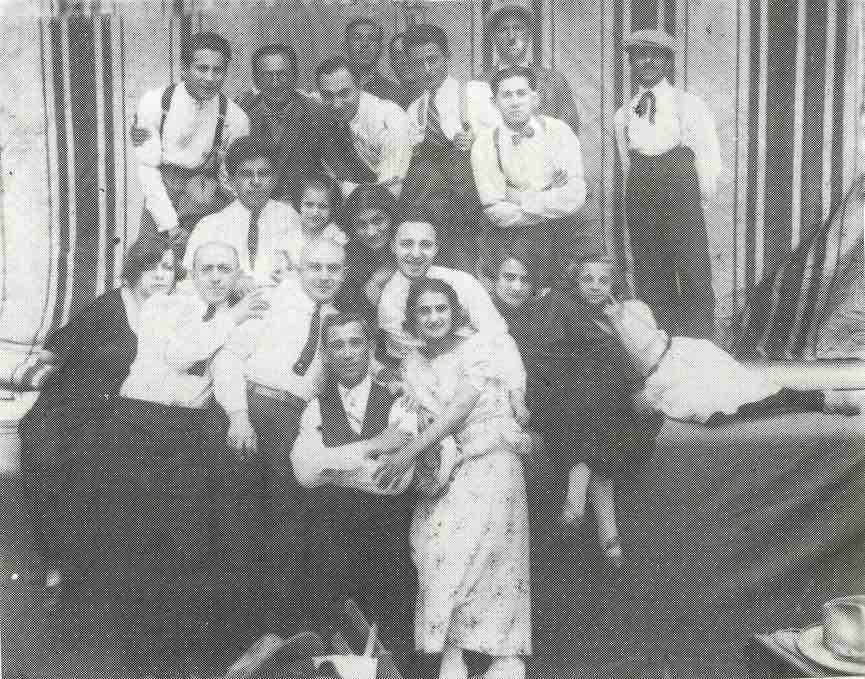 The Vilna Company. Images source: Israil Bercovici, "A Century of Yiddish Theatre in Romania"
Despite its success, the company was forced to change its name to "Drama and Comedy" due to financial and administrative constraints. Simultaneously, Jacob Sternberg took over the company's artistic management and began a fruitful collaboration with the Integral Avant-garde magazine and the artists associated with it, including M. H. Maxy, Ion Călugăru, Arthur Kolnik, Reuven Rubin, Marcel Iancu, and George Lövendal. In the end, the Vilna Troupe abandoned Romania and disbanded around the middle of 1927.
Jacob Sternberg founded the Bukarester Idishe Teater Studie (The Bucharest Yiddish Theatrical Studio—BITS) in 1930 to ensure the survival of Yiddish theatre on the Romanian cultural arena. Its inaugural performance was I. L. Peretz's play At Night in the Old Marketplace, in which the director emphasised the ideal combination of Classicism and Modernism once more.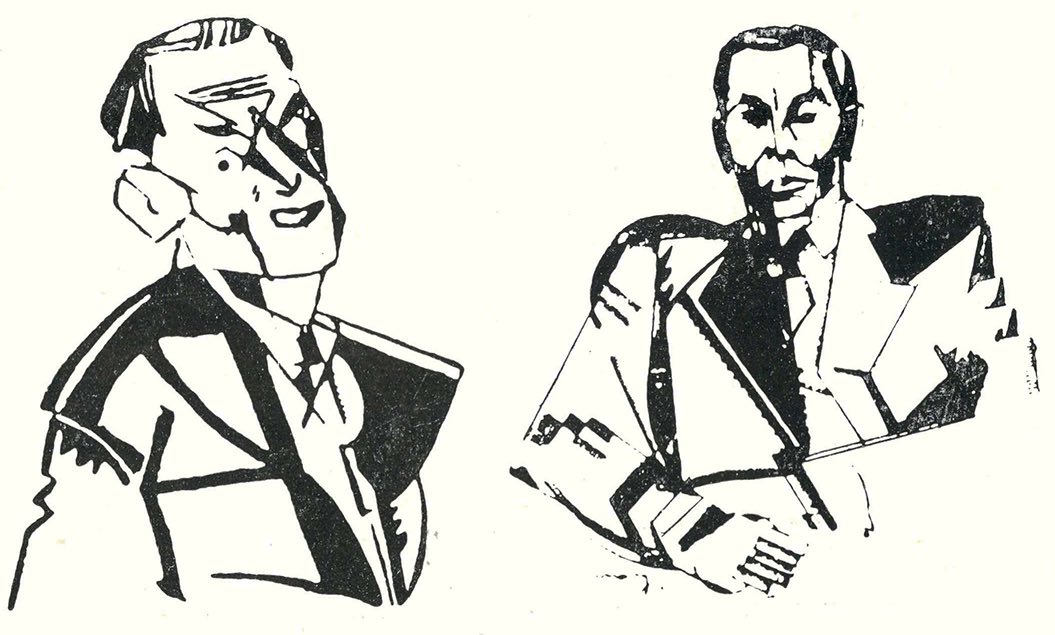 Jacob Sternberg and Mordecai Mazo, drawing by M. H. Maxy. Image source: Israil Bercovici, "A Century of Yiddish Theatre in Romania"
THE BARASCHEUM THEATRE, OR ANTI-FASCIST RESISTANCE THROUGH ART
During WWII, an extremely complicated episode in the history of Yiddish theatre in Romania occurred. Following King Charles II's abdication and the establishment of a military fascist dictatorship presided over by Marshal Ion Antonescu, a series of anti-Semitic measures were enacted that had an impact on the Jewish artistic scene. On September 9, 1940, the General Directorate of Theatres and Romanian Operas issued an order prohibiting Jewish artists from working in Romanian Theatres and Operas or performing in Yiddish. Following that, a series of petitions signed by Romanian intellectuals were circulated in their support.
The Ministry of Cults and Arts authorised the establishment of the Barascheum Jewish Theatre on February 26, 1941, at the intervention of writer Liviu Rebreanu, with some conditions: the artistic personnel had to be composed solely of Jewish people; the repertoire of the theatre had to propose exclusively Jewish plays that should be performed only in Romanian; and all types of political manifestations, outside the theatre or during performances, were prohibited.
Over 200 artists, playwrights, musicians, composers, directors, and architects from various locations and political perspectives formed the nucleus that kept the Yiddish theatre alive even during the Holocaust. Beate Fredanov, Alexandru Finţi, Jeni Smilovici, Moni Ghelerter, Sandu Eliad, M. H. Maxy, Felix Aderca, Mihail Sebastian, Isaac Ludo, Marcel Iancu, and Haim Schwartzman were among those that participated.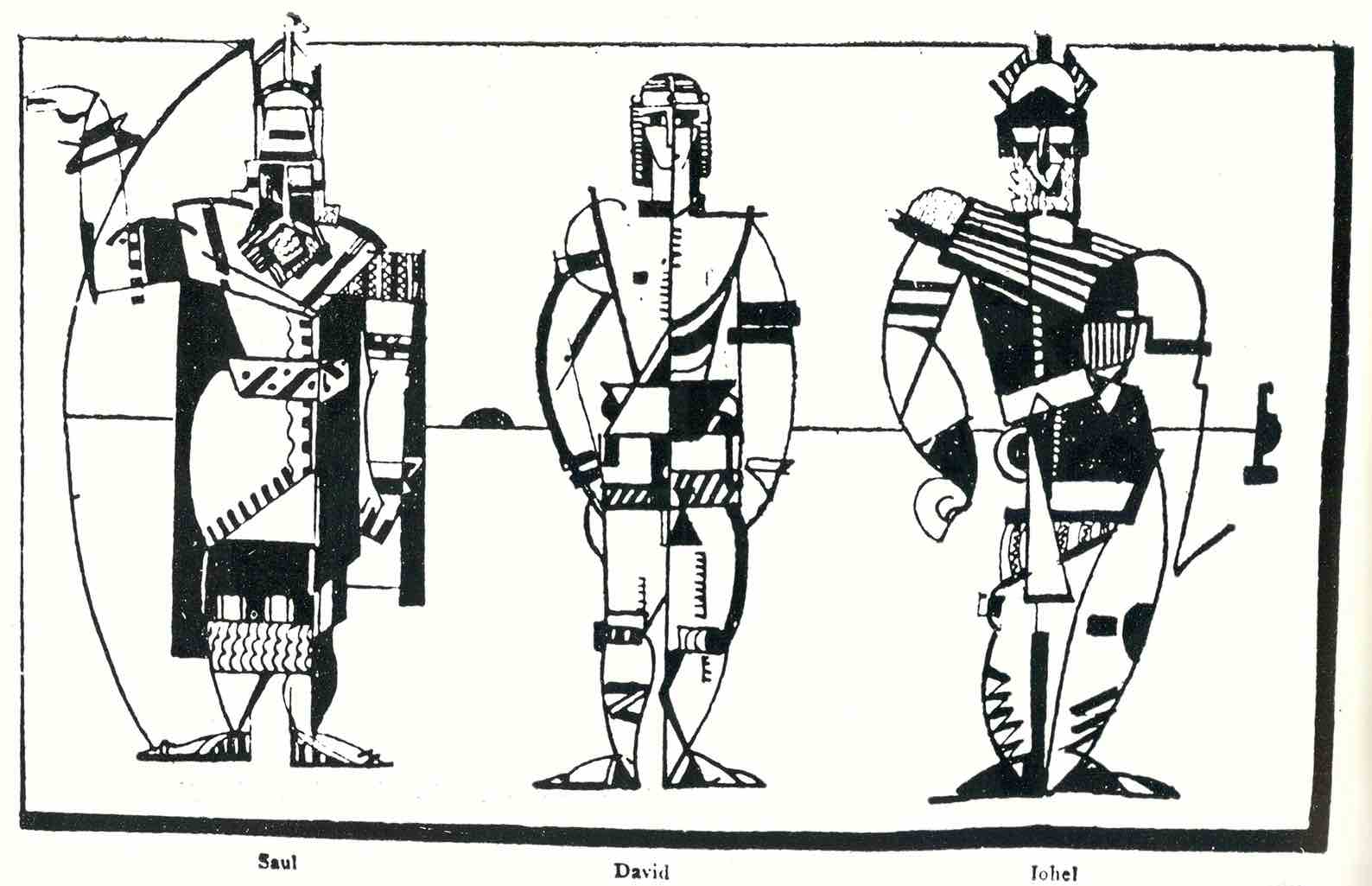 Six costume sketches created by M. H. Maxy for André Gide's play "Saul". Images source: Israil Bercovici, "A Century of Yiddish Theatre in Romania"
The Barascheum became a symbol for the fight against fascism and intolerance, a cultural centre that attempted to preserve Jewish traditions in a society that wanted to erase any trace of their passage in this world (hence the name chosen, with a nod to scientist and philanthropist Dr. Julius Barasch). Last but not least, the actors who remained in Bucharest made Yiddish sounds audible, even if only in some refrains and wise words interspersed between the lines in Romanian. Several Jewish actors and writers from Bukovina and Bessarabia, including Sevilla Pastor, Moise and Rosa Siegler, Baruch and Leia Rintzler, Mișu and Sali Bernstein, Asia Derevici, Littman Wigder, Beniamin Wilner, and Herman Stolper, were deported and staged theatrical performances in Transnistria's ghettos and camps at Zhmerynka, Mohyliv, and Vapniarka.
YIDDISH THEATRE IN ROMANIA IN THE AFTERMATH OF WWII
After WWII, it became critical to establish a permanent stage for the Yiddish theatre, 70 years after Abraham Goldfaden founded the world's first professional theatre. In 1945, in Bucharest, the cultural association Idischer Kultur Ferband (IKUF) was founded, which had a rich activity in the field of Yiddish culture: it organised several conferences, launched the IKUF Bleter magazine, and established the IKUF theatre company. Later, on August 1, 1948, the State Jewish Theatre in Bucharest (TES) opened, followed, a year later, by the State Jewish Theatre in Jassy, managed by actor and director Iso Schapira, and offering performances from the Jewish classical repertoire as well as contemporary creations.
Unlike the TES in Jassy, which closed in 1963, the State Jewish Theatre in Bucharest has been active continuously, presenting over 200 premieres up to the present day. Sevilla Pastor, Dina König, Lia König, Isaac Havis, Samuel Fischler, Mauriciu Sekler, Mano Rippel, Seidy Glück, Leonie Waldman Eliad, Theodor Danetti, and Tricy Abramovici were among its most important theatre actors. The Bucharest TES was also well-known internationally, with tours in the United States, Canada, Israel, Russia, Switzerland, France, Greece, and Germany. Furthermore, it organised and hosted a number of festivals, including the first International Festival of Yiddish Culture in Europe (2003) and the first edition of the International Festival of Yiddish Theatre TES FEST (2017), which has reached its fifth edition in 2020.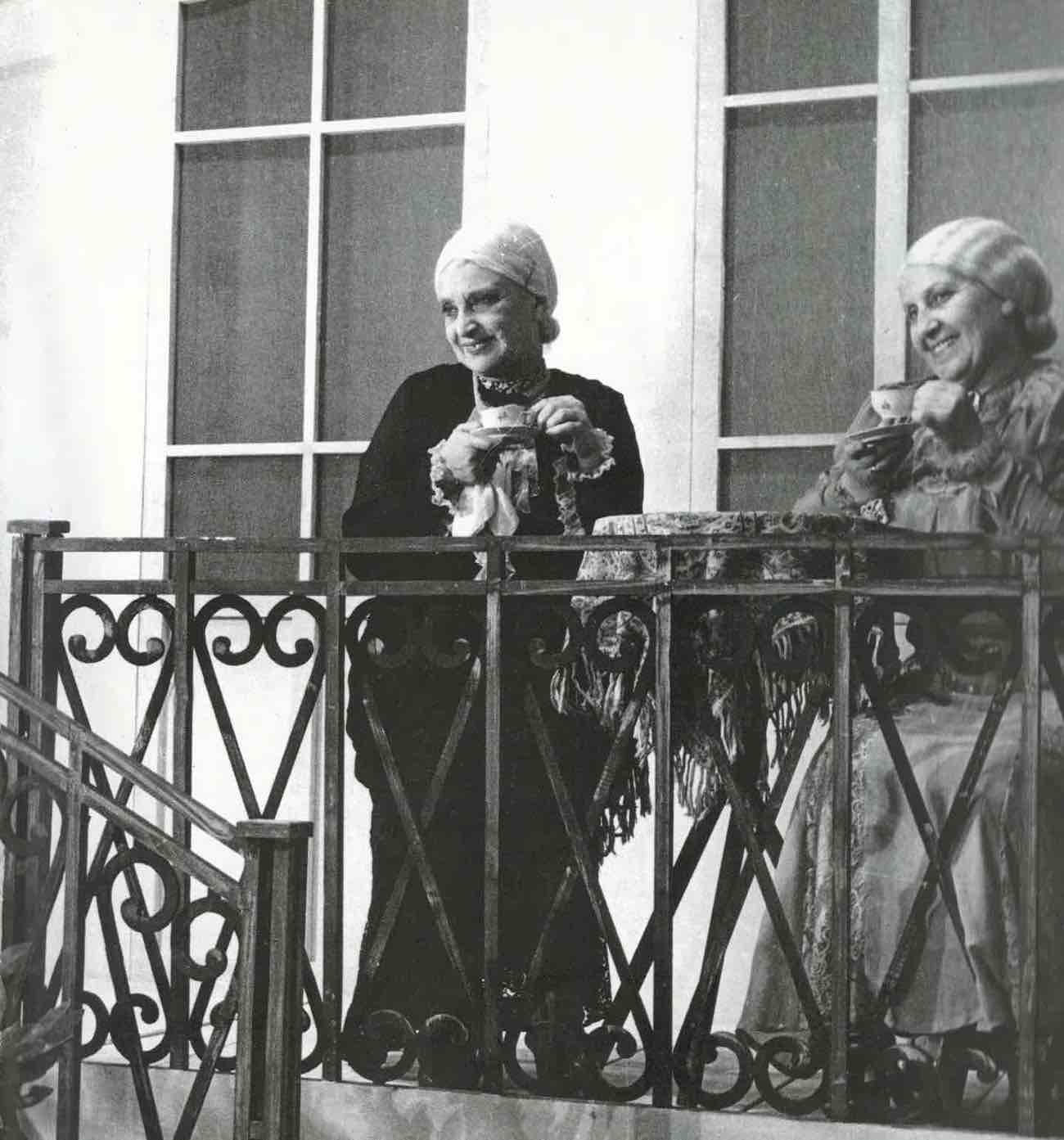 Dina König and Sevilla Pastor in "With Salt and Pepper". Image source: Israil Bercovici, "A Century of Yiddish Theatre in Romania"
Isaac Havis and Samuel Fischler on the stage of Bucharest's State Jewish Theatre. Image source: Teșu Solomovici, "The History of Yiddish Theatre in Romania"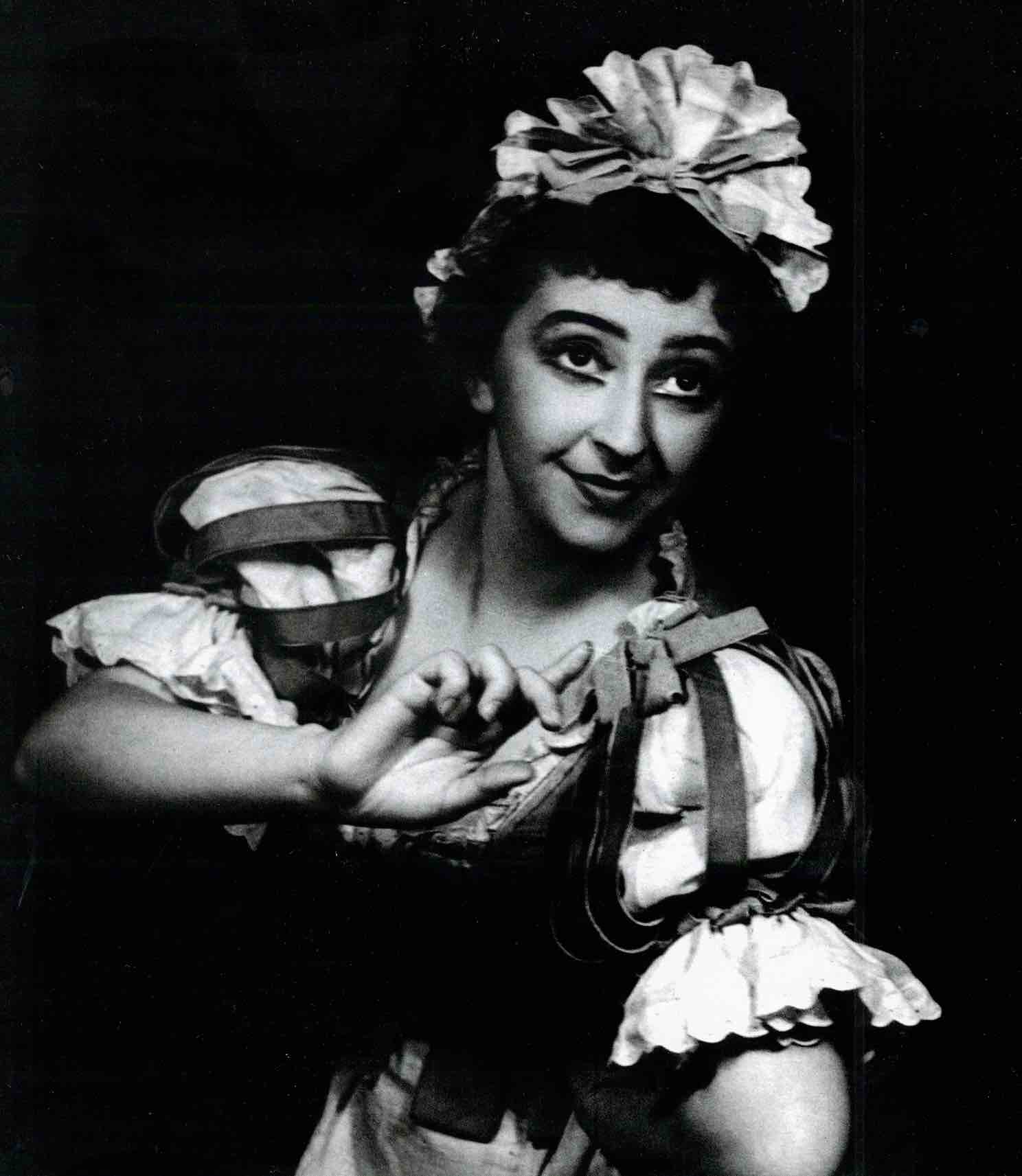 Lia König. Image source: Teșu Solomovici, "The History of Yiddish Theatre in Romania"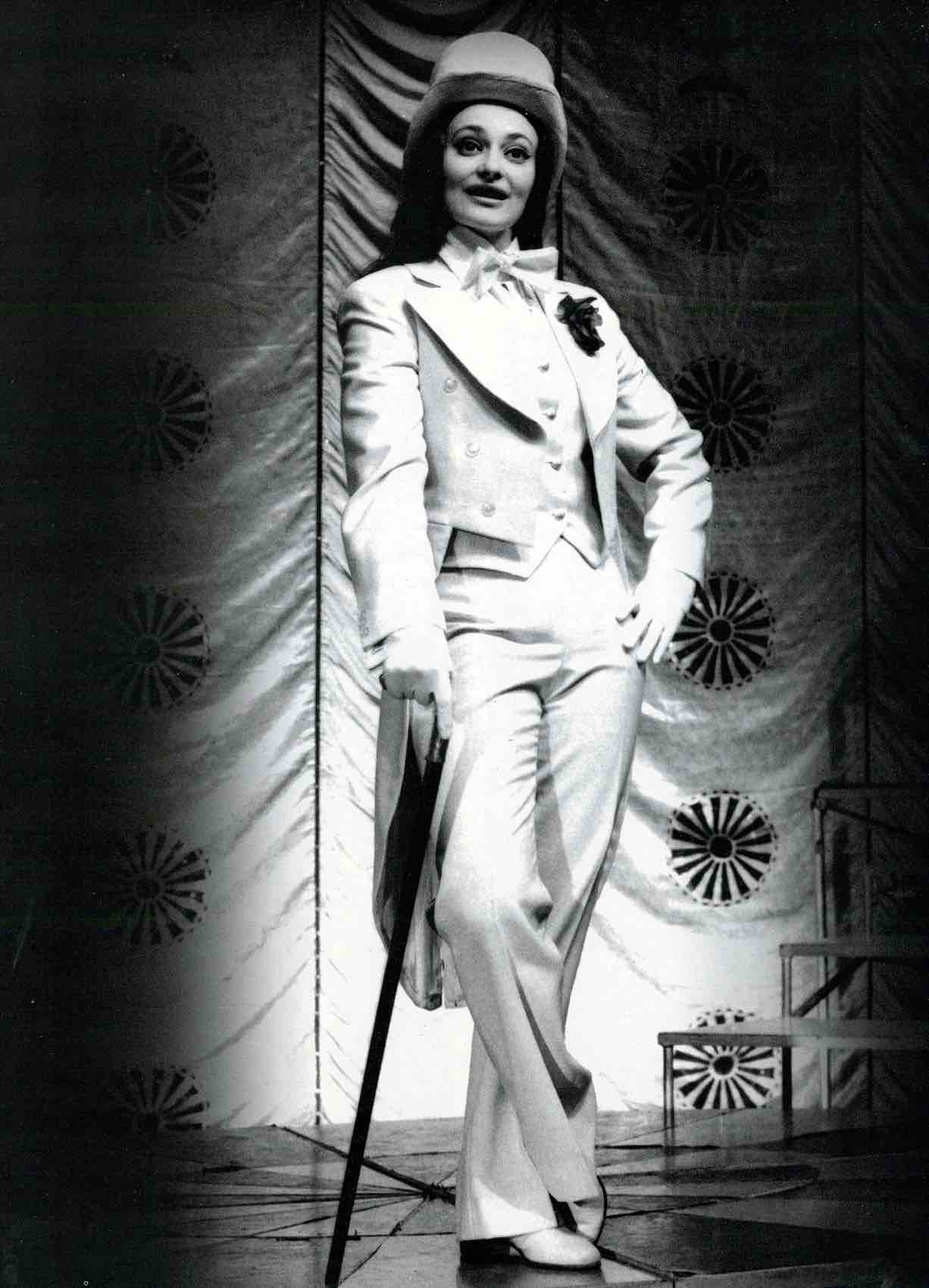 Tricy Abramovici. Image source: Teșu Solomovici, "The History of Yiddish Theatre in Romania"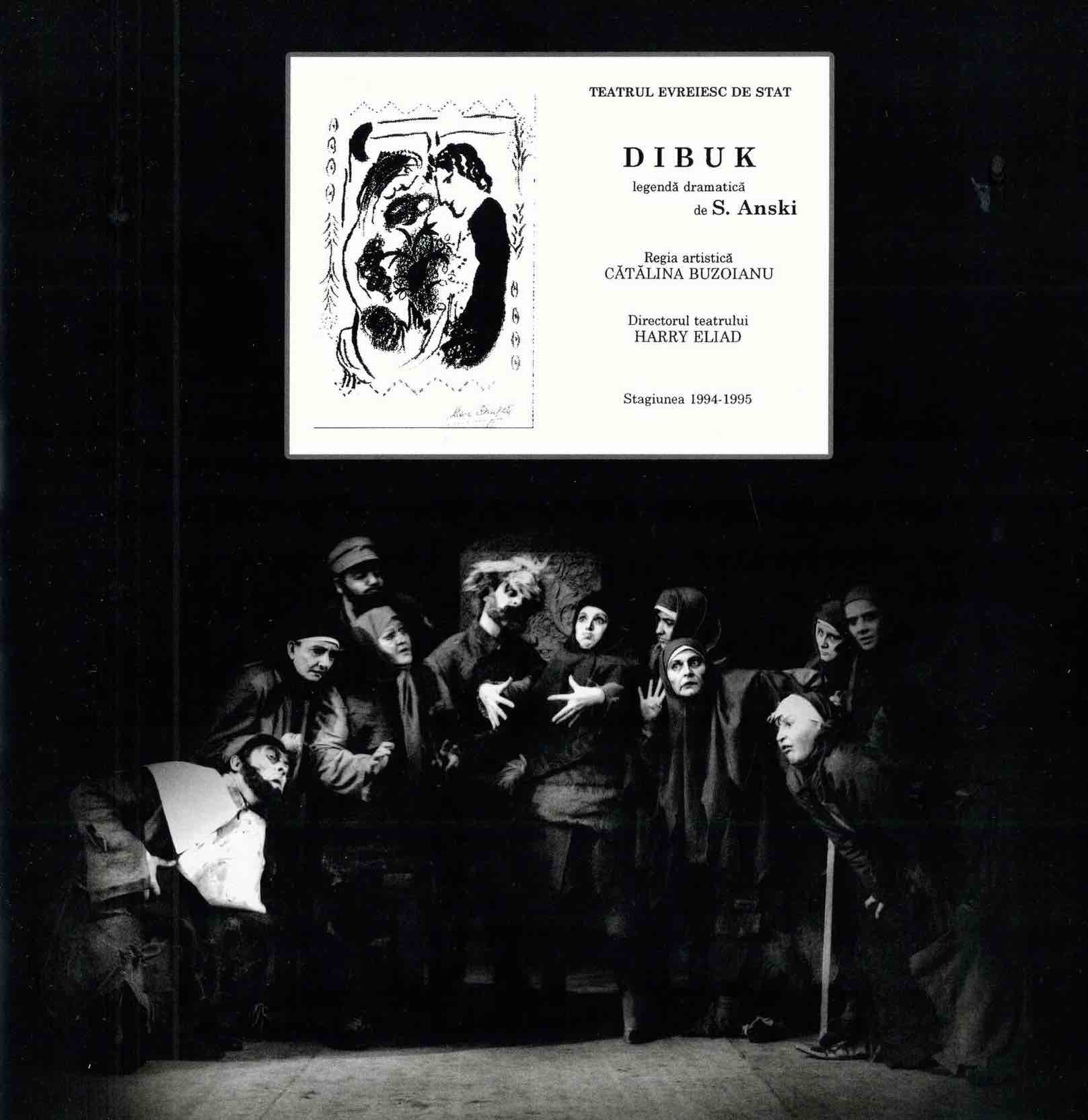 "Dybbuk" by S. Anski, directed by Cătălina Buzoianu. Image source: Teșu Solomovici, "The History of Yiddish Theatre in Romania"
De la "Dibuk" la "Lozul cel Mare". Antologie de teatru idiș, studiu introductiv, note și ediție îngrijită de Camelia Crăciun, Editura Hasefer, București, 2016.
Israil Bercovici, O sută de ani de teatru evreiesc în România (1876-1976), prefață de Ileana Berlogea, Editura Kriterion, București, 1982.
Ronit Fischer, Romanian Yiddish Theater. URL: https://jwa.org/encyclopedia/article/romanian-yiddish-theater.
Paul Leibovici, Primul teatru în limba idiș a fost înființat la Iași, acum 140 de ani. URL: http://www.bjt2006.org/PL_Teatrul_evreiesc_Iasi_4816.pdf.
Teșu Solomovici, Istoria teatrului evreiesc din România/Yiddish Theatre in Romania. Peste 13 decenii de existență, Editura Teșu, București, 2004.